A couple of weeks ago, I went on vacation. A lot of it was sight-seeing and hiking, the sort of thing I like to do in my free time. But I also spent one day doing some very important Weather War ship research–which had the bonus of being amazingly fun. I went sailing!
And not just sailing–I went tall ship sailing.
The Michigan Maritime Museum operates the Friends Good Will out of South Haven, Michigan, and I was one of seven passengers on their mid-afternoon cruise (two of the others were my parents, who are good sports about being my photographers, videographers, etc). With such a small group, I was able to monopolize a lot of the captain and crew's time and believe me, I took advantage of that!
Captain Zach has apparently sailed with authors before, so he knows how inquisitive we are. He spent a lot of time with me on the quarterdeck, answering my questions about things like how a ship would get out of port before diesel engines. He also volunteered lots of information that I didn't ask for, but am super grateful to have received.
Thankfully, Mom was right there with her phone to capture video of my lessons, because I couldn't exactly take notes–I had my hands full with the tiller!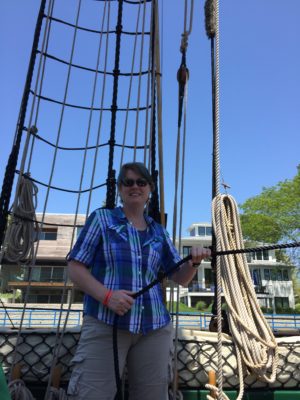 The entire crew consisted of Captain Zach, Josh, John, and Maggie, which is apparently a small crew for the FGW. They always let people help raise the sails, but I don't think John was just being nice when he said having my help was nice since there were only four of them.
The captain asked if anyone wanted to help steer, and I'm proud to say that I didn't bowl over the eight-year-old girl who was on board with us. I let her go first, even. But once I was invited onto the quarterdeck, I didn't leave!
Fortunately, the captain seemed happy to give me instructions and let me do all the wrestling with the tiller. It's amazing how responsive a 100,000-pound ship is–the slightest adjustment on the tiller would change her course, and I could feel the tiller change when the sails slacked a little. I can understand even better now why sailors refer to their ships as "she." The FGW felt like she was alive and answering my touch.
When the time came to return to harbor, Captain Zach taught me how to tack. As we approached the harbor, he asked if I'd like to take her in to dock–who am I to refuse? I was a little nervous, especially when he left the quarterdeck to do a couple of things, but I did my best to live up to his faith in me. Good news–we didn't wreck! And I'm sure those paddleboarders will be fine…
Just kidding! I managed to avoid the paddleboarders. You'd think people in smaller crafts or on paddleboards would realize that a ship that large isn't as maneuverable as they are, but apparently not.
As an added bonus, Captain Zach gave me some great book titles to read. He also recommended other ships for me to sail on, including the Pride of Baltimore. Maybe by next summer, I'll be able to afford that–but I definitely know I'll be going back to South Haven for more sailing on the Friends Good Will!
---
I'll post some video as soon as I get it edited and uploaded, but for now, have some more pictures of my latest adventure in research!