I'm privileged to own two Windows computers as well as a netbook on which I'm running Xubuntu Linux. One of the Windows computers is a Windows 8 laptop I got in December (and which I share with my mom at times). The other is a Vista machine I got early in 2008. I've been having trouble with the Vista machine's power supply coming disconnected for the past year (this is possibly because I am not a computer expert, but am nonetheless unafraid to make hardware swaps and such). Yesterday I struggled to get it to boot completely, but didn't take the hint to back up the few files that aren't part of my automatic Dropbox backup. One of them being a friend's novel with my comments on it. >.<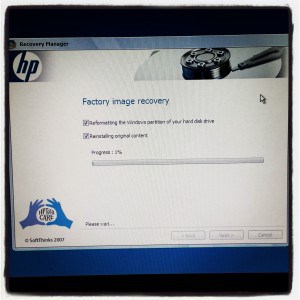 So today it wouldn't boot at all. It tried, but kept failing and giving me a blank screen with "ERR2ERR3" in the top corner. Some Googling gave me a couple of ideas to try to fix it, but once those ideas were exhausted and I'd run all the diagnostics available to me in the System Restore menu, I threw up my hands and did a complete factory restore.You already know where this is going, right?
This is not an ideal solution.
On the up side, the computer is running again and currently downloading eighty-gazillion Windows updates and antivirus definitions. I'm hoping to get a couple more years of life out of it.
On the down side, I'm going to have to retype my comments in my friend's novel. This makes me feel bad because of all the extra work for me, but even more because of the extra time I'm going to need before I get it back to her.
Last week the hard drive failed on a computer at work–a machine we just got in January. Fortunately it's under warranty and the technician was supposed to install the new hard drive today. But it's yet another reminder not to rely entirely on technology, and never to put all your data eggs in one basket. At work we're all backed up to the network, and at home I'm mostly backed up to Dropbox.
All except the novel file and a few pictures that are now lost to the ages.
I've read a few worrisome things about Dropbox's privacy issues. Dropbox employees aren't banned from looking at a user's files, for instance. But frankly I haven't liked the way some of the alternatives operate. I tried installing Wuala a while back, and I've dabbled with SugarSync and SpiderOak (which makes me shudder when I imagine what a spideroak would look like). None of them sync as effortlessly and intuitively as Dropbox, so I've stuck with them. Someday I'll hopefully be able to afford Carbonite (as important as it is, it doesn't currently fit into my budget) so I can do an unlimited backup of photos and the like.
My point is that there are lots and lots of easy backup options out there for writers. Do some investigating, and make sure you never lose your work!