Okay, let me start with a disclaimer. Well, with two disclaimers. One: Mystery isn't my main reading genre. And two: I've been reeling since the election on November 8. I'll be clear here: I was a Bernie Sanders supporter, but I voted for Hillary Clinton. And I am still stunned and in mourning that Hillary didn't win. I'm still stunned and in mourning that the results of the election seem to have emboldened a certain segment of white people who hate people of color and non-straight, non-cis people. Anyone who has read my stories will know that I am a strong supporter of LGBTQ rights, as well as those of people of color. Hopefully that won't come as a surprise to readers of my blog.
That said, I was surprised at how incredibly relevant Garrett Hutson's In a Safe Town was to today, despite being a novel set in the early 1980s. Having grown up in the 1980s, I confess that a certain amount of nostalgia goes a long way with me. But I don't think that colors my opinion that this is an excellent mystery novel.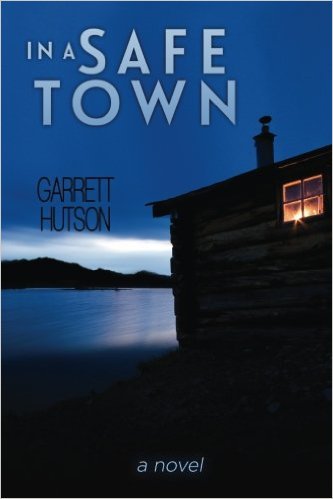 Set in Indiana (my home state), this novel explores a lot of issues that are still relevant today–racism, homophobia, and religion, in small-town life. I've lived in Indiana for forty years, and I have to say that everything Hutson writes about my home state rings true. Indianapolis and Bloomington (and Lafayette/West Lafayette) are generally open-minded cities, but once you start branching out into smaller cities and towns, you're going to find a lot of people who identify more strongly with the South.
I currently live in Montgomery County, for example. And I love Montgomery County. There are a lot of things to love about this area. Our county seat, Crawfordsville, had five Union Generals during the Civil War. I work at the "Home of Ben-Hur," which was the best-selling novel of the 19th century. Meredith Nicholson, another best-selling novelist, was born in Montgomery County, and renowned Hoosier artist T.C. Steele grew up in Montgomery County.
That said…Montgomery County, particularly southwestern Montgomery County, had a very strong Copperhead presence during the Civil War. Copperheads were southern sympathizers, those who either believed the South had the right to secede or hoped that the South would win. And it wasn't just Montgomery County. Do a little digging into the Ex Parte Milligan case, for example, and you'll see that there were plots inside Indiana to attack the Union from within. And the Sons of Liberty weren't the only blight on Indiana's record. The KKK had a very strong foothold in Indiana; with their stance against African-Americans, Jewish people, and Catholics (my ancestors), they rose to prominence in Indiana after World War I.
All of this is rather more political than I usually get, but it's a fitting introduction to the book I'm about to recommend to you. Because here's the thing: As much as we'd like to think otherwise, once you get outside the beltway (I-465 around Indianapolis), the Indiana of the 1920s, the Indiana of the 1960s, the Indiana of the 1980s… doesn't look much different from the Indiana of the 1860s.
On the face of it, In a Safe Town looks like a high-school football murder mystery. But as someone who is a born-and-bred Hoosier, I can tell you that it's so much more.
Indiana might be known for basketball, but football is still an incredibly important sport in our state, so the murder of a hotshot high school quarterback isn't going to go unavenged. Especially once a gay teen is arrested for the murder. But as is so often the case, things aren't always as they appear. Join Sheriff Mark Bennett as he attempts to unravel the murder of his daughter's boyfriend, Tom Stafford, despite (or perhaps because of) the fact that election day is just a few short weeks away.
There are so many layers to this novel–that of the church-going, God-fearing sheriff. That of the sheriff who is well aware of the political realities in his hometown. That of the pregnant teenager who doesn't know what to do. That of the white police officer who finds himself investigating the 21-year-old murder of a Black rights and feminist activist. That of a high school boy who, raised in poverty, is suddenly called upon to do the right thing.
Garrett Hutson takes advantage of a diverse cast to weave a story that has so many conflicting–or commingling–aspects that the reader doesn't know quite who to root for. I found myself by turns thrilled and disappointed by the decisions made by Sheriff Mark Bennett, and I honestly didn't know whodunnit until right before the sheriff himself solved the mystery. But I was always rooting for the truth, and I was always rooting for the cause of right.
While mystery isn't the main genre I read, I'm always happy to read novels set in my home state, and this one didn't disappoint. In a Safe Town captures the culture of small-town Indiana and delivers a satisfying mystery while addressing issues that are as relevant in 2016 as they were in 1982.