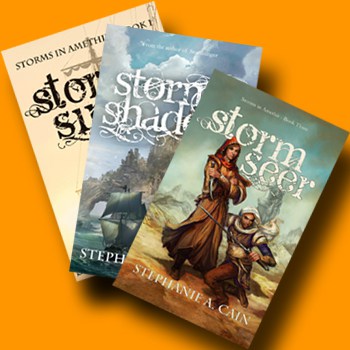 I'm excited to announce the winner of the signed Storms in Amethir series.
Congratulations to Jeremy D!
I've sent you an email with instructions on collecting your prize, Jeremy.
I wish I could give a set to everyone who entered the contest. Since I can't, I'd like to offer a coupon code. Regardless of what e-book reader you use, you can purchase my books in the format you need through Smashwords.
From now until December 31, you can get Stormshadow free on Smashwords using coupon code NL44U and purchase Stormseer for $1.49 using coupon code AF76V.
Thank you all so much for your interest in the giveaway! I'll be sure to let you know the next time I do one!