Yesterday I worked on my 2014 Writing Plan.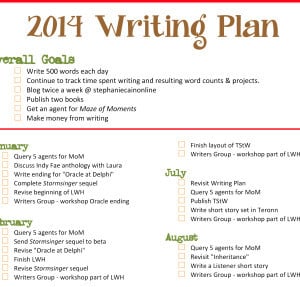 Today I'm exhausted and exhilarated at the same time. I have some ambitious plans for the upcoming 365 days. Honestly I'll be happy if I accomplish half of them. But I really want to meet all of these goals and more. I want to get more short fiction written. I want to publish a couple more books. I want to have two novels in the query process instead of one.
Of course, I can't even pretend to have met all of my 2013 goals.
A review of 2013
Things I planned to do in 2013 included: Finish The Loyalty Factor, query 5 agents per month from April to December, submit "Inheritance", finish Maze of Moments and begin querying, plot and write sequel to The Loyalty Factor.
A lot of things happened in 2013 that I wasn't expecting, and a couple of things happened that I was expecting. I did finish TLF and MoM. I did query MoM. I even got a full request for MoM. But my writing group told me "Inheritance" needed lots more work, and the sequel to TLF didn't happen at all. I did decided, almost spur of the moment, to participate in NaNoWriMo, and I also spur-of-the-moment published Stormsinger. So failing to follow my 2013 Writing Plan to the T didn't exactly displease me. It just wasn't the way I saw those 365 days going.
As of December 29, I am still querying MoM. I have published Stormsinger and received my first distribution payments (here's a secret: those payments have been TINY). I have started a new novel, currently titled The Long Way Home.
All in all, 2013 has been an encouraging year for my writing career, but it hasn't been a profitable or eventful one. The plans I've made this weekend aim to continue the first and correct the second.
Why do I set yearly goals?
So if I didn't follow 2013's plan, why did I bother setting plans for 2014?
First of all, because if you don't aim at something, you won't hit anything. I know I'll never be 10 for 10 on my goals, but if I even hit 1 for 10 on my goals, I'm further than I was. It's a good feeling to know you've accomplished one of the things you set out to do.
Second of all, because I would like to eventually turn my writing into a secondary income stream. Yes, I have two part-time jobs that between them make me happy and provide a full-time income. That doesn't mean either one of them are what I originally set out to do with my life. I enjoy them and will continue both jobs well beyond the point where I can list my writing as my main income source, but I would love to be able to call myself a professional writer with no degree whatsoever of irony in that.
Thirdly, because I have stories I want to share with people. Lots of them. More than I can realistically share during the course of a single year. So I have to prioritize in order to decide which stories deserve my attention from day to day. It makes it easy for me to ask myself, "Am I working on something today that will help me reach my annual goals?"
What considerations affect my annual writing goals?
So what process do I use to set my annual writing goals? First of all, I ask myself what are the overall general things I want to accomplish over the next year. Do I want to self-publish again and further my career as an Indie Author? Do I want to continue submitting to agents and pursue a career as a traditionally published author? Do I want to seek hybrid status and do both? Do I want to focus on my epic fantasy or my urban fantasy? Do I want to work on short fiction or long fiction or a combination of both?

None of those are easy questions to answer. There are creative, financial, and practical considerations to each of those questions. I have to work through all of the variables and decide what matters to me and what doesn't. I have to prioritize things. I also have to consider what appeals to me emotionally as well as practically.
When all that is said and done, I have to figure out how my desires match up with my creative and professional needs.
What's the Bottom Line?
When it comes right down to it, there are a lot of factors that affect my annual writing goals. In addition to the considerations mentioned above, there are also writers whose blogs I read that affect my decision-making process. My bank balance also has an impact on what decisions I make. My non-writing hobbies also have an effect. So when it comes right down to it, how do I decide?
I make my decisions based on a combination of: marketability, passion, and variety.
My 2014 writing plan has long fiction and short fiction. It has a direct sequel to my currently available self-published novelette, a related novel, and a completely unrelated novella. It has short fiction and large. It has traditionally published and indie published options.
Ultimately, I decided to pursue a hybrid path in 2014.
Further resources
I always try to think about the coming year in terms of my writing goals, but there are a couple of related blog posts that helped inform my decisions this year.
One is Derek Murphy's post about How to Do an Annual Review and Set Ambitious Goals for 2014. I'm not the only writer out there who makes plans for the coming year. It's sort of like a literary New Year's Resolutions. Seeing someone else sharing his goals for 2014 inspired me to do the same.
Another resources I used that is new to me (in this context) this year is Google Calendar. I've been using Google Calendar to manage my appointments for years, but an article I discovered via Lifehacker prompted me to create a 2014 Writing Plan calendar on my Google Calendar. Andrea Vascellari's article gave me a nuts-and-bolts approach to using Google Calendar to set my writing goals. I now have a day-by-day breakdown of what I need to be working on in my writing goals.
Conclusion
When it comes down to it, I have no way of knowing if I'm going to meet my self-imposed deadlines and goals for 2014. Maybe I'll get an amazing idea that makes me want to drop everything and work on it. Maybe I'll get an offer of representation on January 2. Maybe I'll sign a book contract before the end of February. My 2014 Writing Plan allows me to revisit my goals on a quarterly basis. If something isn't working or some project becomes urgent, I've built in a framework to handle it.
Either way, I think I'm one step ahead of writers who don't have an annual plan. After all, as the saying goes, if you fail to plan, you are planning to fail.
What's one of your goals for 2014?