I'm excited–today is Release Day for F is for Fairy!
"Anyone who believes that faeries are wee, golden-haired creatures with dragon-fly wings and sweet intentions has never met a real faerie." –Suzanne Willis, "A Silver Thread Between Worlds"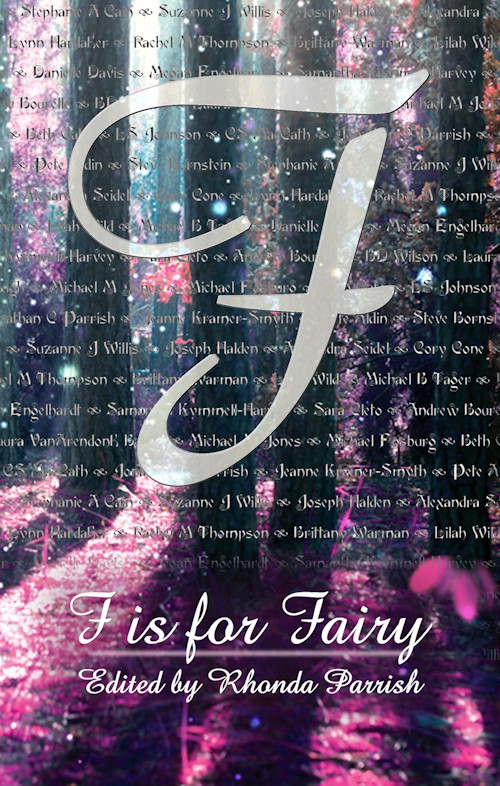 You may remember my last blog post (I know, shame on me) was the cover reveal for the book. I am still in love with this cover, by the way.
F is for Fairy is the sixth installment in the Rhonda Parrish's Alphabet Anthologies series. I love the concept of this series. There will eventually be 26 anthologies, one for each letter of the alphabet. And each anthology has 26 stories in it–again, one for each letter of the alphabet. I'm notoriously bad at math, but I think that's 676 stories in all!
Each anthology has a central theme–in this case, fairies. And each author is assigned a letter. We're given lots of leeway in the subject of our stories. The title of each story has to correspond to the letter we're assigned. So for this anthology, I was given letter G.
My story for this anthology is set in the Circle City Magic universe. It technically takes place before Circle City Psychic, which released last year, but I think it stands alone pretty well.
You can enjoy familiar favorites reimagined and brand new stories in this fairy-themed collection. Within these offerings you'll find fairy music and food, contracts (making and breaking them), changelings, circles and curses. These stories deliver all the things you already love about fairies and a few new tricks as well.
F is for Fairy Contributors
[ezcol_1half]
Pete Aldin
Steve Bornstein
Andrew Bourelle
Stephanie A. Cain
Beth Cato
Sara Cleto
Cory Cone
Danielle Davis
Megan Engelhardt
Michael Fosburg
Joseph Halden
Lynn Hardaker
L.S. Johnson
[/ezcol_1half] [ezcol_1half_end]
Michael M. Jones
Jeanne Kramer-Smyth
Samantha Kymmell-Harvey
C.S. MacCath
Jonathan C. Parrish
Alexandra Seidel
Michael B. Tager
Rachel M. Thompson
Laura VanArendonk Baugh
Brittany Warman
Lilah Wild
Suzanne J. Willis
BD Wilson
[/ezcol_1half_end]
Circle City Magic
I'm very excited to have this addition to the Circle City Magic series. At this point, the chronological reading order is this:
Shades of Circle City
"Gift of the Werewolf"
A Spirit of Camaraderie
"C" in E is for Evil
"G" in F is for Fairy
Circle City Psychic
And there will be more coming! I have a plot and outline for A Stranger in Circle City, the third novel in the series. Right now, I'm hard at work on Witchery's End, the final book in the Storms in Amethir series, and then I'll return to the Circle City Magic universe to finish the first trilogy in that world!