I won NaNoWriMo 2022 in the pre-dawn hours of November 30. I got up early to write because I knew I had time commitments after work and I really wanted to win.
I have nothing like a novel, but I finished with 51,670 words I didn't have before, plus two characters I adore, several I quite like, and a world that appeals to me and will probably be revisited. What's more, I wrote 28 out of 30 days during NaNoWriMo. That's a lot more writing than I'd got done during much of 2022.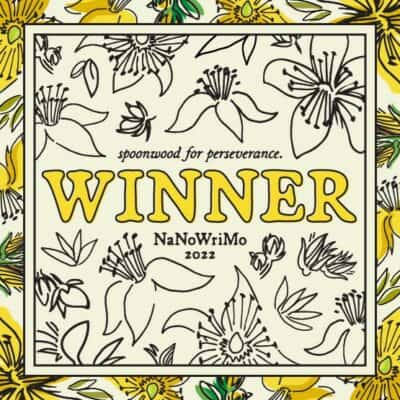 I'm not writing every day in December, but I've added several thousand words to the mess that is my NaNo2022 project. I'm planning to hack my way to a conclusion in this draft before putting it aside to return to the world of Amethir and the very-belated Shroudling.
It feels good to have won. It feels good to have created this stuff. It even feels good to know this is one mess of a project that won't see the light of day (outside of my Patreon, anyway) any time soon. Because doing NaNo this year reminded me of all the things I love about writing. It reminded me how good it feels to escape into a world of my own imagination.
I also made a decision about the future of the Circle City Magic series during NaNoWriMo. Don't worry, I'm going to continue it! But I've decided to ret-con a little bit and pretend that the clusterfuck that was 2016-2020 never happened. No Covid, because it's too big to just add as one aspect of a story.
I'm doing that for two reasons–my own sanity and the sanity of my characters. Having made that decision, once I finish Shroudling, I'm going to dive back into Circle City Magic and finish Murphy's character arc while exploring some of the other fun werewolves, mediums, detectives, mechanics, and other supernatural beings that populate my mythical Indianapolis.
Here's to attainable goals and hope for the future!