You might remember how much I enjoyed Rhonda Parrish's first anthology Fae (reviewed here), and earlier this year I was fortunate enough to score an e-ARC of her second Magical Menagerie anthology, Corvidae. I've finally (finally!) gotten around to writing up and posting my review, and I want to share it here as well.
Corvidae is another masterful and magical anthology from Rhonda Parrish. "A Murder of Crows" by Jane Yolen is a fun poem to open the anthology. Anything that begins by telling us to "Cry havoc" is promising a good time–and this anthology definitely delivers!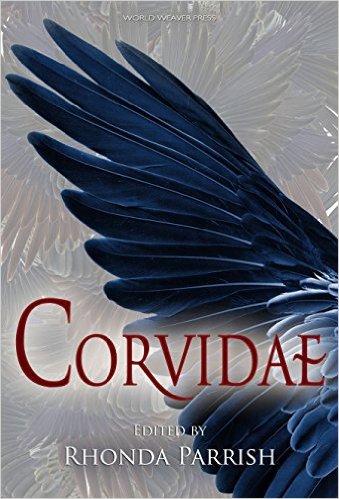 "Whistles and Trills" by Kat Otis provides an amazing alternate history version of World War II. I want to go read Otis' version of the entire war. I want to explore the Frost Chieftaincies and find out how the Axis Powers developed in this world. Granted, I was a history major, so I get nerdy about alternate histories, but this version is beautifully drawn by Kat Otis, and Morgaine is a great character to pull us into this world. Parrish picked the perfect story to open her anthology.
She follows it up with the amazing and macabre "The Valravn" by Megan Fennell. Opening in a manner that suggests a fairy tale, the story quickly shows that it's a Grimm-type tale, not a Disneyfied one. I love how the gruesome way Valravns acquire power and knowledge combined with the loving warmth of family.
"A Mischief of Seven" by Leslie Van Zwol begins with Pike, a hard-bitten detective, being called to a murder scene, where he visits with a ghost. What begins as a noir-mystery quickly evolves into a gritty urban fantasy that fans of Harry Dresden will enjoy. I don't recall seeing the name of the city, but I can easily imagine this being Indianapolis or St. Louis, a heartland city with Old World immigrants and mythology that is still alive and well.
"Visiting hours" by Michael S. Pack brings us to the bedside of a very sick little boy whose mother is struggling to accept his illness. Here we're introduced to the idea of ravens as psychopomps, eaters of the dead, yes, but also conveyers of the soul to the next life.
I confess, I found myself a little confused at the beginning of "The Rookery of Sainte-Mere-Eglise" by Tim Deal. The title made me expect a World War II story, since that village was the target of the air landings on D-Day, but that's…not quite what I got. Or is it?
And when we got to "The Cruelest Team Will Win" by Mike Allen, the first line almost lost me–I'm terrified of spiders, so when the narrator eats a huge, scary spider, I shuddered. But I stuck with it, and got a glimpse of a book that reminded me of early Charles de Lint, with people who have spirit forms battling their way through life in modern-day America. I loved the "vapid as a Kardashian" comparison.
I'll be the first to admit I'm not big into poetry. I took a semester of poetry-writing in college and I'm not sure I ever really got it. But the poetry Parrish chose for this anthology is lovely. C.S.E. Cooney's "What Is Owed" is a resonant, evocative magpie poem that just begs to be read aloud.
In "Raven No More" by Adria Laycraft, we're given an inside look at a woman breaking out of an abusive relationship and going into hiding. When her ex threatens those she loves, though, she has to find her strength in cunning and trickery, inspired by Raven, the first Trickster.
I found "The Tell-Tale Heart of Existence" to be a very clever re-imagining of Poe's tale. Michael M. Rader makes the narrator a slighted doctoral student who is driven mad by the belief his professor is suppressing his genius. It's been a few years since I read Poe's version, but this felt very much like he had written it.
I was fortunate enough to be able to critique "Sanctuary" by Laura VanArendonk Baugh before she submitted it to this collection, so it's possible I'm biased, but I love the mix of behavioral science, neuroscience, and mythology that we get in this story. Set at a wildlife rescue, this story gives us a close-up look at how scarily intelligent crows actually are.
"Knife Collection, Blood Museum, Birds (Scarecrow Remix)" is a suffocating story, which seems like a mean thing to say, except I'm pretty sure that's exactly what Sara Puls was going for. We follow Renee as her relationship and home life deteriorate because of her cutting. I love the character of Knife Woman, aka Ori, who is strong enough to reach out when Renee needs it.
"Flying the Coop" by M.L.D. Curelas is another story that takes us into a world I want to see more of. There are little shades of the old movie "LadyHawke" in this, but think steampunk instead of medieval. Hanna is a smuggler hired to get a stolen magpie out of a city run by a very dangerous man. But Hanna takes a page out of the corvid she's smuggling and uses trickery to her advantage.
"Postcards from the Abyss" by Jane Yolen is a poem of dread and despair. It made me feel uncomfortable, and honestly I paged past after a quick reading. But again, poetry isn't always my thing. As it turns out, it was a fitting segue to the bizarre folk-tale feeling of "Bazyli Conjures a Blackbird" by Mark Rapacz. We're rapt with the apparently young Kuba as the storyteller tells us about a terrible war and the magical entertainment the soldiers are given. And, like Kuba, we are left to wonder what really is the most terrible part of war.
"Seven for a Secret" by Megan Engelhardt is a delightful and horrible story. Delightful because the whimsical voice conjures images of Watson and Holmes (or Vesper Holly and Uncle Brinton, for Lloyd Alexander fans) except in this case we have Miss Harris and Lady Zinnia Carmichael, cryptozoologists who are summoned to the southern continent to investigate rumors of a bird-man. Horrible because humans are often ill-equipped to deal with the fantastical, as readers of the story will learn. I would desperately like to read more of Harris and Zinnia's adventures.
In "Flight," the final story in the anthology, Angela Slatter introduces us to Emer, a princess who has sprouted feathers. Caught in a hero tale of her parents' making, Emer must rise to the challenge and figure out how to save herself.