Today I'm excited to be part of a cover reveal of Dream Eater for World Weaver Press. This is a gorgeous cover, and the book sounds fantastic! Here's the description:
Koi Pierce dreams other peoples' dreams.
Her whole life she's avoided other people. Any skin-to-skin contact—a hug from her sister, the hand of a barista at Stumptown coffee—transfers flashes of that person's most intense dreams. It's enough to make anyone a hermit.
But Koi's getting her act together. No matter what, this time she's going to finish her degree at Portland Community College and get a real life. Of course it's not going to be that easy. Her father, increasingly disturbed from Alzheimer's disease, a dream fragment of a dead girl from the casual brush of a creepy PCC professor's hand, and a mysterious stranger who speaks the same rare Northern Japanese dialect as Koi's father will force Koi to learn to trust in the help of others, as well as face the truth about herself.
So are you ready for the cover? Here it is!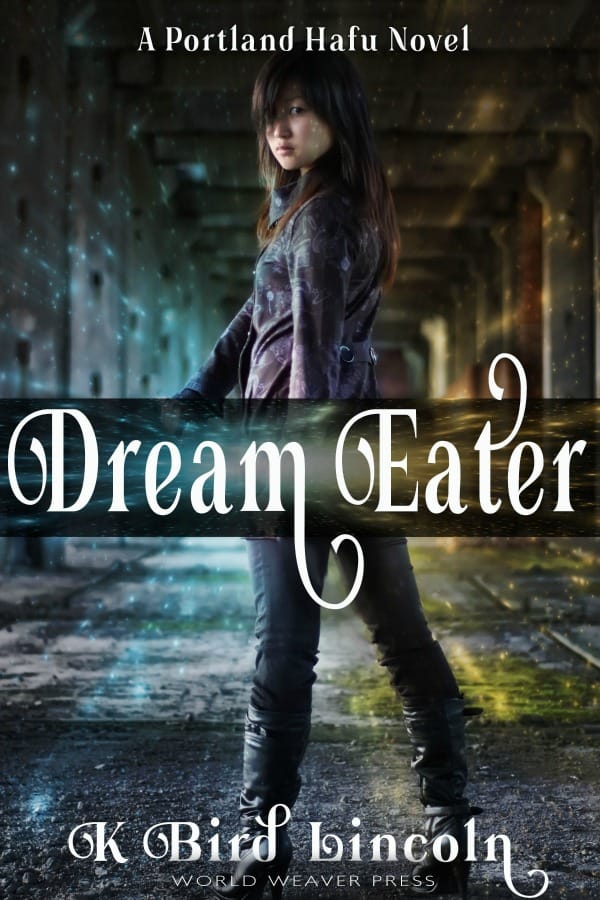 Isn't it intriguing?
The urban fantasy novel will be available in trade paperback and ebook Tuesday, April 4, 2017. Dream Eater will be available in trade paperback and ebook via Amazon.com, Barnesandnoble.com, Kobo, iTunes, WorldWeaverPress.com, and for wholesale through Ingram. You can also find Dream Eater on Goodreads.
K. Bird Lincoln is an ESL professional and writer living on the windswept Minnesota Prairie with family and a huge addiction to frou-frou coffee. Also dark chocolate–without which, the world is a howling void. Originally from Cleveland, she has spent more years living on the edges of the Pacific Ocean than in the Midwest. Her speculative short stories are published in various online & paper publications such as Strange Horizons. Her first novel, Tiger Lily, a medieval Japanese fantasy, is available from Amazon. She also writes tasty speculative and YA fiction reviews under the name K. Bird at Goodreads.com.
Check back here soon for a guest post from K. Bird Lincoln!