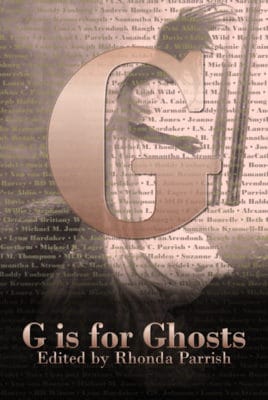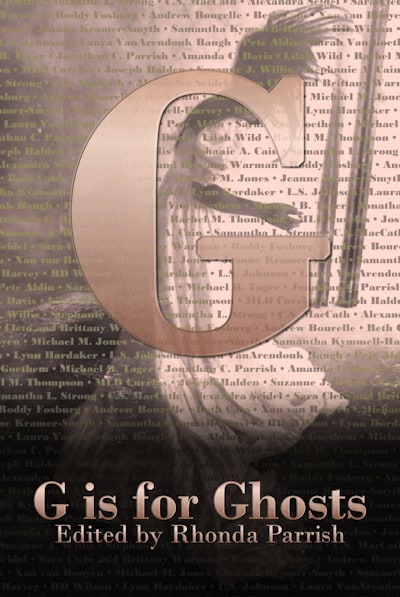 I know it's been very quiet here. I haven't been doing a lot of writing over the past couple of years. But today I'm posting because I have a story in an anthology that releases today!
G is for Ghosts is the most recent installation in Rhonda Parrish's Alphabet Anthologies series, and my story "A" opens the entire volume! I'll probably get the award for "Least Scary Story in the Anthology," because I prefer haunting, slightly spooky stories over scary or outright gory.
The first story I wrote for this anthology didn't work at the necessary length–in fact, that short story is the basis for my 2021 NaNoWriMo project, which is going to be an (extra, unforeseen) novel-length installment in Storms in Amethir! (I'll try to post updates about that later this month.)
With the ghost-story theme, I wanted to contribute a Circle City Magic story, but the pressure was strong in this situation–I'm opening the anthology, so I want people to keep reading for more stories! On top of that, ghosts are sort of the main thing Chloe does, so I wanted to make sure I did them well. Short fiction set in the Circle City Magic world gives me room to explore some of the secondary characters, which I really enjoy doing. I hope readers enjoy this glimpse of Maura's life!
G is for Ghosts
A teenage girl's classmates begin disappearing only to haunt her dreams, ships full of ghostly passengers in need of release test those who are tasked to give them peace, psychopomps whose job is guiding the spirits of the dead to the other side meet in a support group, and more fill these pages.
Featuring work by Pete Aldin, Andrew Bourelle, Stephanie A. Cain, Beth Cato, M.L.D. Curelas, Sara Cleto and Brittany Warman, Amanda C. Davis, Roddy Fosburg, Joseph Halden, Lynn Hardaker, L.S. Johnson, Michael M. Jones, Jeanne Kramer-Smyth, Samantha Kymmell-Harvey, C.S. MacCath, Jonathan C. Parrish, Alexandra Seidel, Samantha L. Strong, Michael B. Tager, Rachel M. Thompson, Laura VanArendonk Baugh, Sarah Van Goethem, Xan van Rooyen, Lilah Wild, Suzanne J. Willis and BD Wilson.
These twenty-six ghost stories, each with a unique perspective and style, explore hauntings and specters in ways both new and familiar.