I set some specific reading goals for 2018. My #OwnVoices Reading Resolution didn't go quite as well as I had hoped in 2017, and I think a large reason is that I wasn't as deliberate as I should have been. I made a list of books I wanted to read, yes, but I didn't make a plan for reading them. And so many other interesting books kept coming to my attention.
So for 2018, I decided to be deliberate with my reading goals. I said I wanted to read at least 50 books. Of those 50, 25 should be #OwnVoices and 10 should be nonfiction, including a complete read-through of the Harland book on the age of sail.
Last week I picked my first #OwnVoices book to read, which was N.K. Jemisin's The Fifth Season. What a good choice! I knew from reading her Dreamblood Duology that I liked Jemisin's writing, and a lot of my online acquaintances had raved about how good the series was.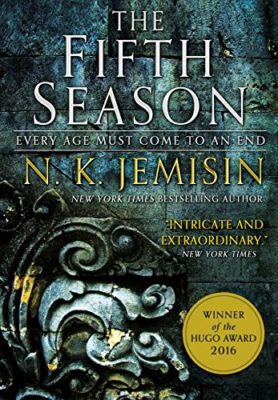 The Fifth Season has lots of characters with dark skin—in fact, they're the majority, it seems like. It also has a group of people who can sess earth/tectonic power—basically, they can manipulate things like earthquakes, rocks, etc., in a talent called orogeny. That's a gross oversimplification, of course. Orogenes are most definitely second-class-citizens. Or third-class. Basically, they're hated and feared, and when they're caught, they're essentially enslaved for the greater good of the empire.
I don't want to spoil the series for you. I went into it knowing almost nothing of what to expect. I think it was good to go into it cold.
Jemisin's writing is beautiful and powerful. Her characters draw you in and make you love them—or sometimes hate them—or sometimes both. The community-based culture, the unique magic system, and the fascinating way science is mixed in with it, all make for an addictive series. The same night I finished The Fifth Season, I purchased book two, The Obelisk Gate. I just finished reading book two last night and immediately purchased book three, The Stone Sky.
Y'all, there's a reason Jemisin won the Hugo Award for this series. I've had to intentionally slow down my reading to make this last because otherwise, I would just gulp these books down as fast as I could. I'm not going to let myself start The Stone Sky until tomorrow because I don't want this experience or story to end!
In a completely different sort of story, I have also been enjoying the Lady Sherlock series by Sherry Thomas. A Study in Scarlet Women and the sequel A Conspiracy in Belgravia are well-written Sherlock Holmes novels set around 1875 with a fascinating twist—Sherlock Holmes is the nom-de-guerre of Charlotte Holmes, a young lady who has no inclination to marry but would prefer to be a headmistress.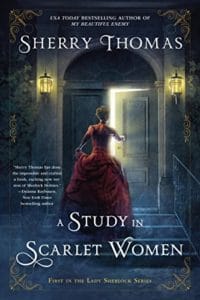 When Charlotte's father renegs on his promise to allow her to refuse marriage if she reaches the age of 25 without finding someone she wants to marry, she decides to take matters into her own hands. Unfortunately, things don't go quite as she planned (why do some people act so illogically?) and she must run away to keep her freedom.
Charlotte, her sister Livia, her friend Lord Ingram, and the many other colorful characters who populate these two books are beautifully characterized. Charlotte isn't a Sherlock Holmes devoid of emotion; the emotional reactions people have may seem foreign to her, but she has learned that language, and she certainly feels love for her sisters, one of whom seems to be autistic.
The historical research is meticulous—I even learned about gasogenes! Did you know the Victorians had their own versions of the SodaStream? I didn't until I read the Lady Sherlock books and did some investigating.
If you're looking for some strongly portrayed female characters in a Victorian setting—not to mention mysteries and intrigue galore—check out Sherry Thomas' excellent books. Book three, The Hollow of Fear, is available for preorder, but it doesn't release until October 2. How will I be able to wait that long?
What have you been reading lately? Have you read either of these series? I'd love to know what you thought of them!