…so this happened.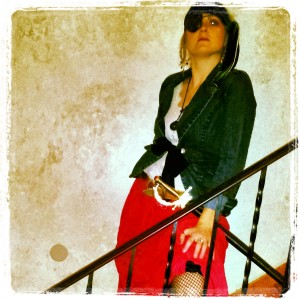 Pirate is my default at Halloween. I think it's because pirates can be pretty and fierce at the same time. And also pretty fierce. Also, it's remarkably easy to be a pirate with stuff I already have, which says something about my wardrobe choices.
Anyway, being a pirate all day made me want to write about Arama Dzornaea. Except the more I want to write about Arama, the more I realize she's not the main character of The Weather War, as the first 20K words are written. That means revising. And that is NOT what NaNoWriMo is about.
And part of me still is dying to throw everything aside and write for 30 days and nights with crazy literary abandon.
Ten minutes ago I realized that I could take the urban fantasy story with Marian Tavares and throw in Demeter Van Zant, a character I've had lurking in the back of my head for a few years now, and see how well they play together. I think Mare and Demy would like each other, but probably not until after they'd tried to kick each other's ass at least once.
So…drat. Still torn.
Oh well, I have an hour left before I have to decide.