I am so thrilled! I've been showing this to my friends in person, and I have it as my computer wallpaper, but finally I can share with you the cover design for Stormshadow! The artist is the phenomenally talented Phuoc Quan, who is not only a great artist but a delight to work with. He took my descriptions and created a gorgeous image that looks just as I imagined it–except better!
Are you ready?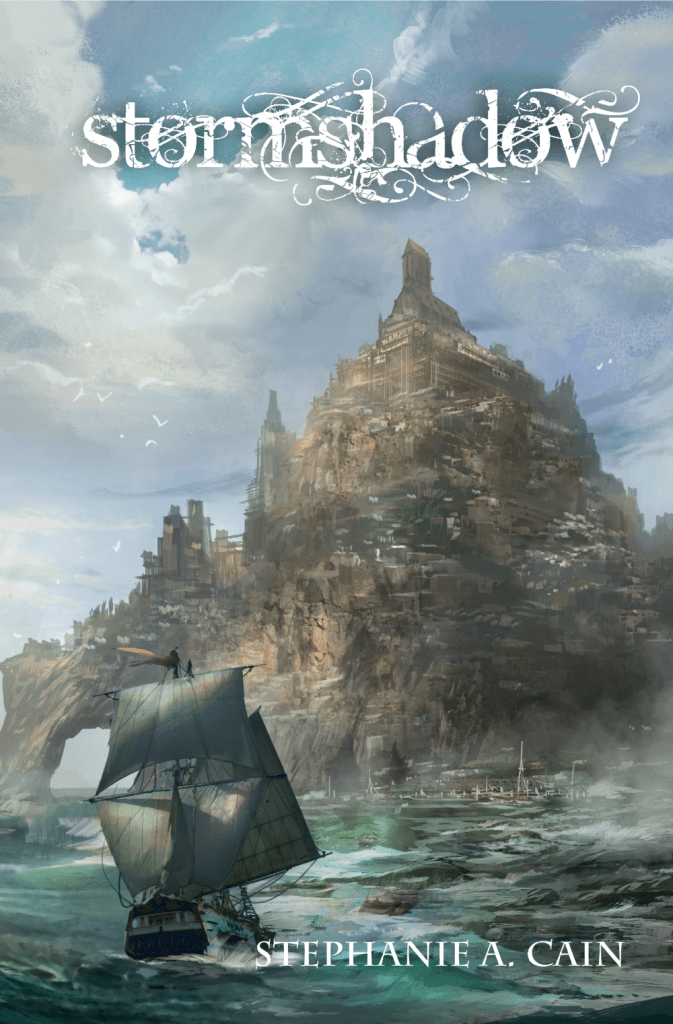 What do you think? Isn't it amazing?!
Want to be notified when Stormshadow is available? You can sign up for my email newsletter in the "Sign Up for Stephanie Cain Author Newsletter" link to the right.
Princess Azmei of Tamnen has a decision to make, and she doesn't like either option: marry Prince Vistaren of Amethir–a man she's never met–or let her kingdom's war with Strid go on with no end in sight. Seeing no alternative, she agrees to meet Prince Vistaren, with the caveat that the marriage treaty won't be ratified until then.
Azmei knows she is sailing into a precarious situation. After all, the correspondence she's traded with Vistaren doesn't guarantee he'll be a man she can respect or love. She can't stand the thought of seeing her generation decimated by the bloody conflict with neighboring Strid. Yet while she has sworn to serve her brother, the heir to Tamnen's throne, Azmei isn't certain this is the best way to do so.
What Azmei doesn't know is that her new friend, Orya, is not who she seems to be, and that Prince Vistaren has secrets of his own. And on top of that, there are those who will stop at nothing to prevent the alliance between Tamnen and Amethir…
There is a storm on the horizon, and its shadow may grow to cover the whole world.