I know a lot of creative people, and it's definitely been an interesting couple of years for us. A lot of creatives found themselves inspired to work harder throughout the pandemic years. I also know several–including me–who experienced a sort of creative drought during the pandemic.
Health During a Pandemic
This was exacerbated, at least on my part, by the fact that my depression & anxiety medications were no longer working the way they're supposed to. Thankfully, my mother knows me better than anyone. She kicked my butt to get to the doctor and do something about that part–I'm happy to say that I'm on different meds, and they are definitely working!
I also quit drinking for real in 2022. I've been trying to cut back for years, but I've finally admitted that cutting back wasn't going to do it. I have no problem limiting myself to a single drink if I'm out to dinner, but when I drink at home, suddenly the whole bottle is empty without my noticing it…until the next day, of course! And contrary to what Hemingway said, writing drunk doesn't really work. I know there are studies that say one or two services of alcohol increase creativity. That's all well and good, but I feel so much better physically if I'm completely alcohol free. And feeling good physically, I've found, is essential to feeling creative, at least for me.
Shroudling
I've been making good progress on a story that I realized is essential for the Storms in Amethir series. I know I've been on a VERY long hiatus from that series. I definitely need to write one more full-length novel to wrap up the stories of Princess Azmei, Prince Vistaren, Captain Arama, and the others. But the next foray into the world of Amethir is going to be an interlude–a novella set entirely in Ranarr, focusing on the Ranarri Diplomats.
The Ranarri Diplomats feature as important characters during the rest of the series. By focusing entirely on them for this interlude, I'll be able to bring several threads of the story together. I had hoped to finish the first draft of the next book, which is titled Shroudling, by yesterday. Well, despite making good progress over the past two months, I didn't finish. I'm now adjusting my deadline to April 30, and I've signed up for Camp NaNoWriMo this month to help keep me motivated!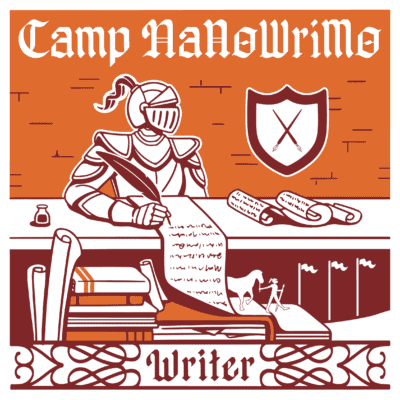 If you're participating in Camp NaNoWriMo this year, look me up! And look for more regular updates on my progress bar for Shroudling!
Email Newsletter
If you've subscribed to my email newsletter, I'll also be dusting that off this month, so look for at least one email, and probably two. I have special goodies planned for my subscribers!